The Mother Ship, the Control Room, Mein Host, the Epicenter, the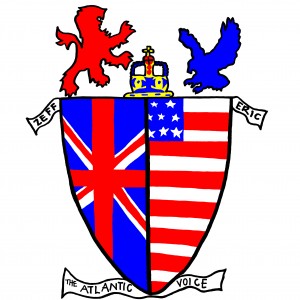 Place to Be, the Home Office, the Home Page, The Atlantic Voice Podcast.
The Atlantic Voice Podcast is where it all begins, and then sometimes seems like it isn't able to end………From the New Basement Studios by the Lake, your hosts Eric and Zeff spend an hour (or so), every other week (or so), taking a journey around the nooks and crannies of popular culture (or so).
From their specials – Beer! Build your own James Bond Film! Christmas (always in two parts!) – to the famous and indispensable Summer Movie Preview editions, the Atlantic Voice Podcast is both definitive and indefinable, but always entertaining.
One American, one Brit, and 3000 Miles of Opinion – it's The Atlantic Voice Podcast.